Franz Lindenmayr / Man and Cave
Holed Stones and Crawling Through Rituals in Great Britain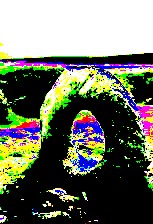 ---
Mên-an-Tol near Madron, Cornwall

| | | |
| --- | --- | --- |
| | | |
| | | Julia Lindenmayr in the holed stone |
| | | "The Men-an-Tol (Rev. Cotton, 1826)", from: antiquities of west cornwall, GUIDE ONE the men-an-tol holed stone, by Ian Cooke, Bosullow 1990 |
| | | |

"A Healing Ritual at the Tolmen near Gweek (Joseph Blight, 1880)", from: antiquities of west cornwall, GUIDE ONE the men-an-tol holed stone, by Ian Cooke, Bosullow 1990

Holed Stone near the Merry Maidens Stone Circle, Cornwall

"Across the road from the Merry Maidens is a holed stone at SW 432 246. It has been re-used as a gatepost." (Burl, Aubrey, A Guide to the Stone Circles of Britain, Ireland and Brittany)

Tregeseal Holed Stones, Cornwall
Blowing Stone in Uffington, Oxfordshire

"The Blowing Stone is a block of natural sarsen stone which stands in the front garden of a cottage (originally the Blowingstone Inn) at the foot of Blowingstone Hill 2 km away. There is a hole in the stone some 46 cm long, and when it is blown in the correct way a loud siren-like note is produced which can be heard for 3 or 4 km on a suitable day. There is good reason for thinking that the stone originally stood on White Horse Hill and was removed to its present position about 1750. In spite of a tradition that King Alfred blew the stone to summon his Saxon warriors, the stone appears to be quite naturala and to have no real archaeological significance. Both the Blowing Stone and the White Horse are mentioned by Thomas Hughes in his book Tom Brown's School Days (1857)"
(Dyer, James, Discovering PREHISTORIC ENGLAND, SHIRE PUBLICATIONS LTD, 1993)

Link: http://www.follytowers.com/blowstone.html

Long Stone near Minchinhampton, Gloucestershire

"The large stone standing in the front garden is believed to be a hoker stone, made of dolomitic conglomerate. It was brought to the Museum by Mr Balch from Tor Hill, where it had been used as a gatepost. In local tradition, a stone with a hole was called a hoker stone and was used to seal a bargain by shaking hands through the hole" (from "WELCOME TO WELLS MUSEUM)

In the oldest complete Saxon crypt in England, built around AD 672. Nowadays it is blocked by a lamp!

Clach-a-Charra, Holed stone with 2 holes, Onich, Lochaber, Inverness-shire, Scotland

The Odin Stone, holed menhir near Stenness, Orkney Islands

In 1891 Wakeman wrote: "The most famous holed stone in the world is doubtlessly that of Stennis, near Kirkwall in Orkney..." (Wakeman 22)

"Apart from the Barnhouse Stone to the south-east, another big outlying stone stands almost north-west of the circle. This is the 18-ft high Watch Stone, close to the water of the Loch of Stenness. Two other sstsones previously stood a small distance away; one of them was called the Stone of Odin and had a hole through it. Promises sealed by clasped hands through this hole were held to be unbreakable, until the stone itself was broken up in 1814" (Service, A., Bradbery, J., The Standing Stones of Europe, revised edition, London 1993, S. 193)

"Regrettably, what may have been the most interesting ot these menhirs, the holed Stone of Odin, about 150 yards north of Stenness, was destroyed in 1814. Once known as the Stone of Sacrifice because it was believed that druids had pinioned their human victims to the pillar, young couples, more innocently, would plight their troth by clasping hands through the stone. And older story told of a Viking. 'For nine moons, at midnight, when the moon was full, he went nine times on his bare knees around the Odin Stone of Stainness. And for nine months, at full moon, he looked through the hole in the Odin Stone', hoping for a vision of the future. Nine years was the time it takes the moon to complete its cycle form major to minimum rising and setting, a journey known and perhaps imitated in prehistoric dance or procession around the stone. (Burl, Aubrey, A Guide to the Stone Circles of Britain, Ireland and Brittany)
"A massive boulder at the foot of a hill on which the village stands..90 feet round and 15 feet high. The villagers will point out the hole through the middle of the rock and speak knowingly of Druids and their strange ways.."
(Timpson, John, Timpson's England - a look beyond the obvious, Jarrold Publishing 1987)
"In a corner of St Peter's Collegiate Churchyard, is a stone about five feet high which has a hole near the top just big enough to shake hands in. This is the Bargain Stone, and in the days before contracts and compeutrs, a buyer and seller would clasp hands through the Bargain Stone, and the bargain would be sealed."
(Timpson, John, Timpson's England - a look beyond the obvious, Jarrold Publishing 1987)
"a lovely example nr the phonebox in Woodborough Wiltshire, England..Although this later one does'nt seam to have any local history, it lie's in the vicinity of many great monuments like Stonehenge and Avebury!" (part of the text of an email which I received from NICK grinagog@ntlworld.com) It's his photograph as well.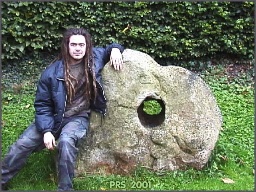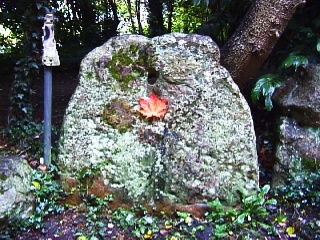 Photo Nick
Alton Priors, Wiltshire

The Holed stone can to be found under the floorboards of the Saxon church, that stood upright next to the Holy springs just 50ft away.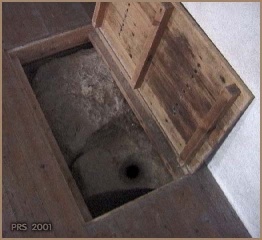 Photo Nick
Outside the church is a Yew tree, almost 2000 years old, with a large hole in it. Trees were also used for crawing through rites, so why not through this one as well?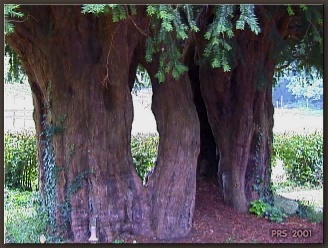 Photo Nick
Links:
Holed Stones and Crawling through rites
---
---