Franz Lindenmayr / Man and Cave
A WORLD CAVE STONE CIRCLE
---
I have been dealing with stone circles for a long time. In 1992 the most impressive book "Walking in Circles" by
Richard Long, the well-known British sculpturer, fell into my hands in a bookshop and I was thrilled.
An example for a contemporary stone circle - Richard Long's creation at the Zugspitze, Bavaria, spring 1998
On the way back from the DOCUMENTA 1992 in Kassel I tried it myself and visited the Heidenloch/Unterfranken, in order to build some stone circles and stone lines as well. The only difference was that I did it in the surroundings of a cave! The formations were photographed and afterwards deinstalled.When I left the place nothing remained anymore of what had been happening there an hour ago.
Later on I chose other cave sites in Europe for similar undertakings.
| | | | | |
| --- | --- | --- | --- | --- |
| | | | | |
| Grotte de Caye Creyt / Ardèche/ F | | | | Cave at Abroath / Scotland |
After the exhibition "ART and CAVE" in May/June 1997 in Garmisch/Partenkirchen/Germany I had an idea. Why should it not be possible to create a "WORLD CAVE STONE CIRCLE" during a worldwide event - SPELEMEDIA and the following World Congress for Speleologists in La-Chaux-de-Fonds/ Switzerland? I wrote to the organizers the following text:
---
Richard Long, a great British sculptor from Bristol, has been building stone circles all over the world for many years.
Why can't we built one, at least, a unique stone circle, in La-Chaux-de-Fonds during SPELEOMEDIA?
Do what he has written down in "A MOVED LINE IN JAPAN - 1983"
PICKING UP CARRYING PLACING
ONE THING (THIS TIME A HANDSIZED STONE) TO ANOTHER
and close the circle.
PICK UP THE STONE AGAIN CARRY IT BACK PLACE IT AGAIN IN THE SAME CAVE
What would fit better to SPELEOMEDIA than that?
---
The reaction was positive but not much really happened. Finally the installation was formed by Caroline Brook and myself. The photographs show, what the whole thing turned out to be in the High School Building in La-Chaux-de-Fonds for two days:
The installation in La-Chaux-de-Fonds/August 1997
When I left, I took my stone from the FUCHSLOCH near Schalding/Bavaria/Germany again with me and returned it later to the same place, from where I had taken it.
| | | | | |
| --- | --- | --- | --- | --- |
| | | | | |
| The "STONE" back in the cave | | "My" stone from the FUCHSLOCH | | On returning the "STONE", September 1997 |
Noticeably were some reactions. Kevin Downey suggested spontaneously "Why not try switching stones?". To forward a "Bavarian" stone to California and vice versa. Please don't! Carolina Brook, the organizer of SPELEART, had also brought a stone, a piece of stal from the Kingsdale Master Cave in Yorkshire/GB. Because the Swiss colleagues got annoyed for cave protection reasons, it was not included in the installation.
It didn't work out very well in 1997, but the idea still exists, now. One day, maybe, it will be revived and really realized! It has to become probably more popular among cavers and the INTERNET could be a good instrument for distributing the idea.
Another cave stone circle, erected, photographed and destroyed in 1998 in a cave on Crete/Greece: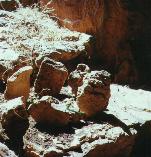 Building a contemporary stone circle is an idea which is also realized by other people (you don't have to use always "stones from caves").
A link:
---
---